Apparatus of Swiching Valve ( Restart valve )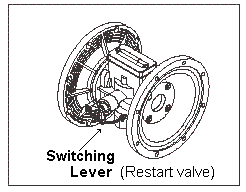 Swiching valve restarts the pump-beat

When Pump ceased the beat, you can restart it as fllows.

Turn to right and left the swiching lever slowly.
Air is supplied to the thin Air chamber, then the Switching apparatus restarts.
* Usualy please set Switching valve on vatical position.